As cities across the country take steps to address equity, traffic congestion, and reduce climate emissions, many are looking to bike and scooter share programs for possible solutions. New mobility programs seem to make headlines each week, with announcements of new transportation technologies hitting our streets. Last year, Portland held a fourth-month pilot program to test out e-scooter share programs in the City. And in recent weeks, the City of Salem has been gearing up for a new bike share and contemplating its own e-scooter deployment. As mobility services expand in Oregon, the Safe Routes Partnership recommends that programs align with community goals and prioritize serving disadvantaged communities.
 Salem's New Bike Share: Ride Salem
For many, talk of a bike share coming to Salem may be old news, but momentum has certainly picked up in the last few months. Ride Salem has entered into agreement with the City of Salem and Zagster to introduce a new bike share to the area. Zagster also operates in Corvallis, Bend and Jackson County. The expected cost for using a Ride Salem bike will start at $1.50/30 min, with $15 – 25 annual plans available. An initial installation phase is expected to start in the coming weeks, with the following 6 stations for starters:
West Salem Courthouse
Railroad Pedestrian Bridge
Riverfront Carousel
Downtown Bus Terminal
Bush Park
Patterson St NW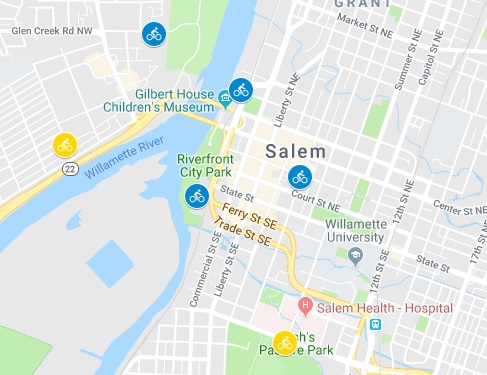 Our Regional Policy Manager Becky Gilliam recently joined the Board of Ride Salem, with intentions to focus on community involvement and equity, as well as connectivity to transit. If you have questions, ideas or concerns please contact Becky. 
SALEM CONTEMPLATES E-SCOOTERS
Last week we heard the news that Bird Scooter Company has been doing some outreach to the City of Salem, expressing interest in a Salem deployment. Bird is a dockless electric scooter share company based out of California, and was one of three e-scooter companies that participated in Portland's four-month long E-scooter Pilot Program in 2018.
Portland Bureau of Transportation (PBOT) called their pilot approach a proactive assessment of how e-scooters might support Portland's objectives for reducing congestion, preventing fatalities and injuries, expanding opportunities for underserved communities and reducing air pollution. This week, PBOT released a full report of last year's pilot, including the announcement of a likely 2.0 trial in 2019. One key finding in the report mentioned e-scooters replacing personal car or ride-hailing trips – 34% of surveyed riders who used an e-scooter during the trial, said they would have otherwise used a car for transportation. However, the report also said "e-scooter operations likely added personal motor vehicle trips to the transportation system, to deploy and retrieve e-scooters each day." Other challenges identified by the report included illegal riding on sidewalks, improper parking and inequitable access.
E-scooters have yet to appear on a Council agenda, but talk of what this might mean for Salem is already buzzing in the community. While a new mobility option has piqued the interest for some, for others, e-scooters represent new challenges for old problems. Salem's downtown core is lacking in protected infrastructure for people walking, bicycling and even scooting. There's reason for concern that adding a dockless e-scooter program may lead to additional unintended consequences for safety and equity.
Salem could certainly consider a similar pilot program to PBOT's, and proceed with caution for prioritizing the needs of community and considering who will and will not benefit. How might you benefit from a Bike Share or Scooters? We'll be watching for City action on e-scooters, and look forward to hearing more feedback from the Salem community.