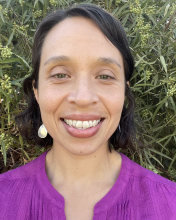 703-570-5355 ext. 106
Washington, DC
Vanessa Cascio serves as the Program and Policy Manager for the Safe Routes Partnership. In this role, she is a champion for equity and is responsible for supporting the program operations of the Safe Routes to Parks Activating Communities program at the local and national levels. In addition to being part of a team helping to grow the emerging area of Safe Routes to Parks, Vanessa supports the coordination between other members of the Program and Policy team to track the program, its deliverables, and related areas including active transportation, Safe Routes to School, and advancing equity.
For the last 16 years, Vanessa has worked in the non-profit arena, first understanding the dynamic intersection of mobility justice and public health as a social worker in Chicago. She supported adults with developmental disabilities who relied on accessible transit options to live independent lives. Vanessa continued to develop her passion in this field, joining Living Streets Alliance, a non-profit advocacy organization based in her hometown of Tucson, Arizona. Leading their Safe Routes to School program, she worked with predominately Latinx, working-class families in southside schools. Vanessa centered her work on grassroots engagement to connect with families and their lived experiences, cultivate youth and resident leadership, and ignite conversations about community health and mobility among neighbors. Highlighting her experiences has been working with neighbors on creative placemaking and tactical urbanism projects to elevate residents' voices in municipal planning processes while uplifting neighborhood pride and culture. Prior to joining the Safe Routes Partnership, Vanessa worked at the Maricopa County Department of Public Health. She developed community-focused activities to address barriers to healthy food access and active living within the Supplemental Nutrition Assistance Program – Education (SNAP-Ed).
Vanessa holds a Master of Public Health degree from the University of Arizona and a Bachelor of Arts in Sociology and Women's Studies from Loyola University Chicago.