Margo Pedroso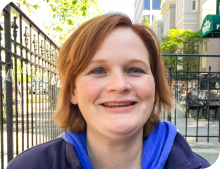 Margo Pedroso serves as the Deputy Director for the Safe Routes Partnership. In this role, she manages government relations, grassroots lobbying, policy research and analysis to advance the Safe Routes to School national movement, and assists the director with partner outreach, fundraising and strategic planning. 
She leads the Safe Routes Partnership's legislative strategy on Capitol Hill and with federal agencies. In addition, Margo has spoken about Safe Routes to School, federal legislation and policy change for a number of audiences, including the American Heart Association, the National Bike Summit and the Strategic Alliance for Health Action Institutes. She has authored or co-authored several Safe Routes to School publications, including Safe Routes to School: Helping Communities Save Lives and Dollars and Getting Students Active through Safe Routes to School: Policies and Action Steps for Education Policymakers and Professionals.
Prior to joining the Safe Routes Partnership, Margo spearheaded public policy and advocacy for MENTOR/National Mentoring Partnership. During her tenure, she built bipartisan Congressional support for youth mentoring, resulting in a four-fold increase in federal funding for mentoring programs and a Congressional pilot program that allows mentoring programs to use FBI background checks to screen volunteers. Margo has also held positions with the federal Institute of Museum and Library Services and the U.S. House of Representatives Committee on Education and the Workforce, focused on government relations and education policy. In total, she has more than fifteen years of experience handling appropriations and policy issues, focusing particularly on priorities that will improve the lives of children.