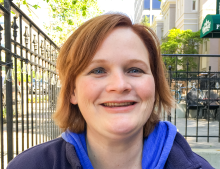 703-570-5355 ext. 100
Torrington, CT
Margo Pedroso serves as the Finance Director for the Safe Routes Partnership. In this role, she provides financial leadership for the organization and oversees day-to-day accounting operations, human resources, and technology.  
Margo has been with the organization for more than ten years, serving in several roles including federal Congressional relations and most recently as Deputy Director.  
Prior to joining the Safe Routes Partnership, Margo worked for the nonprofit MENTOR/National Mentoring Partnership, the federal Institute of Museum and Library Services, and the U.S. House of Representatives Committee on Education and the Workforce, focused on government relations and education policy.