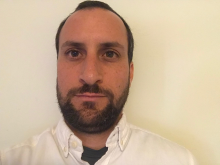 California Senior Policy Manager
703-570-5355 ext. 107
Los Angeles, CA
Jonathan Matz serves as California Senior Policy Manager for the Safe Routes Partnership. In this role, he works to promote state and local policies that facilitate active transportation and safe streets. Additionally, he advises governments and agencies in low income communities on safe streets policy and helps them build capacity and secure funding for Safe Routes to School infrastrucure and planning through California's Active Transportation Program and other sources.
A native Angeleno, Jonathan worked as Southern California Regional Organizer at the Progressive Jewish Alliance in Los Angeles, leading campaigns for carwash worker rights, inclusionary zoning, and to end food deserts.  In 2010, he left for New York, where he earned his Master's degree in Urban Planning at NYU before serving as Senior Policy Analyst and Campaign Coordinator at Move NY, a campaign for toll reform and sustainable transit funding in the New York metropolitan area. An avid pedestrian and cyclist, he is thrilled to return to his home state to continue his work in sustainable transportation and help secure a future in which children across the state can safely walk and bike to school.
Jonathan loves riding in the Malibu canyons and San Gabriels and going to jazz concerts, a passion since his days in college radio. One day, he hopes to pick up his clarinet again and continue learning the art of bicycle framebuilding (he's built one bamboo frame, and one steel frame).