This guide highlights the health benefits of Safe Routes to School initiatives for schools and school communities, provides examples of how active school travel fits with current school priorities, and outlines the roles that school administrators, health practitioners, and interested family and community members can take.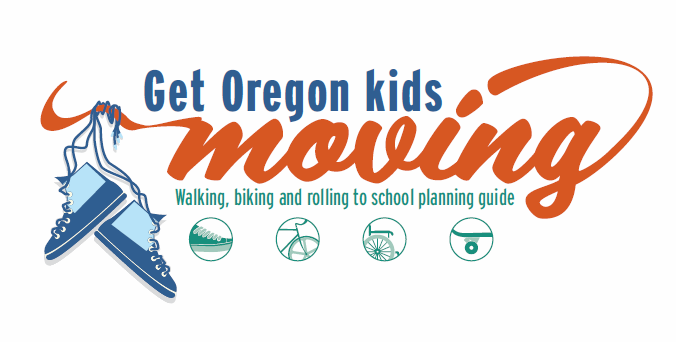 Get Oregon Kids Moving, a new guide from Oregon Health Authority (OHA), Oregon Department of Education (ODE), Oregon Department of Transportation (ODOT), and the Safe Routes Partnership, is intended to be a tool to help start and guide your efforts – especially when working with school officials and health practitioners. 
Just over a generation ago, nine out of 10 students living within a mile of their school walked and biked to school. Today, that rate has dropped by more than half.
Only 1/3 of Oregon kids get enough daily activity. 
After 20 minutes of activity, including walking or rolling to school, students test better in math, reading and spelling. 
Organized school travel can reduce bullying and improve attendance rates.
Large numbers of Oregon students could use active school travel to walk, bike, use a wheelchair or skateboard or other self-propelled way to get to and from school. They live in the "walk zone" –– the area within a mile of school. They typically do not have school bus service, and too many are currently driven to school. Fortunately, a new generation of school leaders, parents and kids are creating a vibrant movement to get movement back into the school commute. Oregon schools can take steps to reinvigorate active school travel by doing things that already align with school goals such as academic achievement, parent engagement, and increased physical activity and health.
Get Oregon Kids Moving will jump-start your efforts – whether you live in Oregon or anywhere else in the country – by sharing facts about walking, biking and rolling to school, describing roles you can play, and outlining programs and resources available to you now. 
GET a personalized presentation or hard copies of this guide
In addition to the PDF download (below), we have hard copies on hand of this guide. If you have an audience or group interested in a personalized presentation of this guide, or an opportunity to distribute copies at a conference, we're here for you! Send us a message at kari@saferoutespartnership.org.
RELATED FILES:
Get Oregon Kids Moving - Walking, biking and rolling to school planning guide