Safety and comfort in public spaces should be the norm. Unfortunately, street harassment exists, with inevitable effects on Safe Routes to School. What does this look like and which communities are affected most by street harassment? 
Join us on April 11, 11am PT/2pm ET
This webinar will address preventative measures against street harassment taken in communities, providing an opportunity to discuss strategies to change behavior and make school environments and the walk to school a safe space for everyone.
Speakers:
Emily May, Co-founder and Executive Director, Hollaback!

Sydnee Corriders, LMSW, Relationship Abuse Prevention Program (RAPP) Coordinator, Steps to End Family Violence

Sara Zimmerman, Policy and Program Director, Safe Routes Partnership
---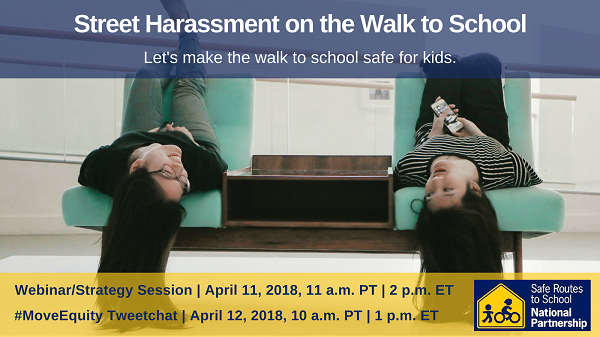 Looking for even more support and guidance on taking action against street harassment and protecting our kids during the trips to and from school? 
During April's International Anti-Street Harassment Week's tweetchat, learn more about how communities are taking action across the country, connect with people and organizations doing great work, and share your ideas and experiences.

On April 12, 10:00 a.m. PT | 1:00 p.m. ET, join Safe Routes Partnership (@SafeRoutesNow) in a #MoveEquity tweetchat about ending street harassment and making school environments and the walk to school safe for everyone. 

Let us know you'll be joining and check out:
Our 2017 report, "Wolf Whistles and Creepy Compliments" to learn more about how safe routes to school programs can take action to protect kids from street harassment.
Our blog post, "It's Time for Safe Routes to School Programs to Start Saying #MeToo" to learn more about why and how Safe Routes to School programs should address street harassment issues.