Salem MPO Opens 2022-2024 Funding Applications, RTSP Comment Period Opening Soon
Thursday, February 14, 2019
The Salem Keizer Area Transportation Study (SKATS) Metropolitan Planning Organization (MPO) has opened the application period for the Transportation Improvement Program (TIP). Approximately $15 million will be made available for transportation projects in 2022 – 2024. Public agencies capable of contracting with ODOT are eligible to receive funding. Private entities and non-profits may also apply as co-applicants with a public agency. Transportation projects eligible for TIP funding must be located within the SKATS MPO boundary and need to be consistent with the last updated Regional Transportation System Plan (RTSP) or the upcoming RTSP to be adopted later this spring.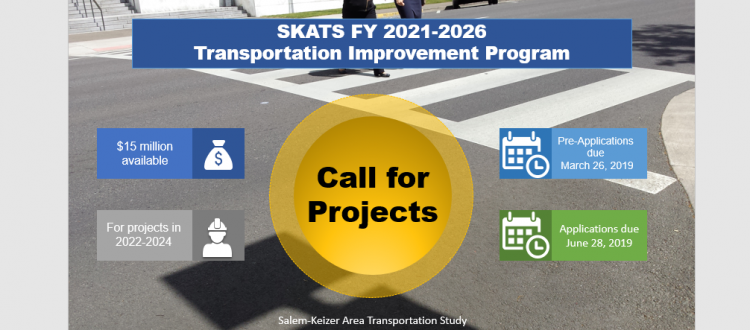 While the TIP is updated every two years to allocate funding for projects in the region, the RTSP is the long-term guide that identifies priority transportation investments and is only updated every four years. There's a lot happening for both plans in the next few months, including public comment opportunities. All SKATS meetings are open to the public, and if you've never attended a meeting before, now would be a good time to start following the policy and funding discussions. Have an active transportation project you'd like added to the TIP or RTSP? Consider contacting your City Council or local agency's planning department to ask for their consideration.
We'll continue to monitor the MPO's activity on both plans as discussions progress, and of course we'd like to see local agencies prioritizing projects that improve mobility for people walking and biking, especially in parts of the metropolitan area that have a higher density of people of color and people with lower incomes. There's a lot of momentum in the Salem area with the adoption of active transportation plans, including the Winter-Maple Neighborhood Greenway, introducing new programs to address pedestrian safety like the City's Safer Crossings Program, and new funding for Safe Routes to School Infrastructure and Non-Infrastructure programs. But while these types of planning and programmatic changes are encouraging, it's important that these types of projects are reflected in the region's transportation system plan, so that we can see the community's vision for safer, more equitable streets become a reality, backed with dedicated funding.
Important Dates for TIP & RTSP Updates:
March 26, 2019                Deadline for TIP pre-applications (highly encouraged, but not required)
June 28, 2019                   Deadline for final TIP applications
April 22, 2019                  Release of public draft and 30-day public comment period opens for RTSP update
May 28, 2019                    MPO Policy Committee to hold public hearing and adopt 2019-2043 RTSP
May 2020                          MPO Policy Committee final adoption of 2021-2026 TIP