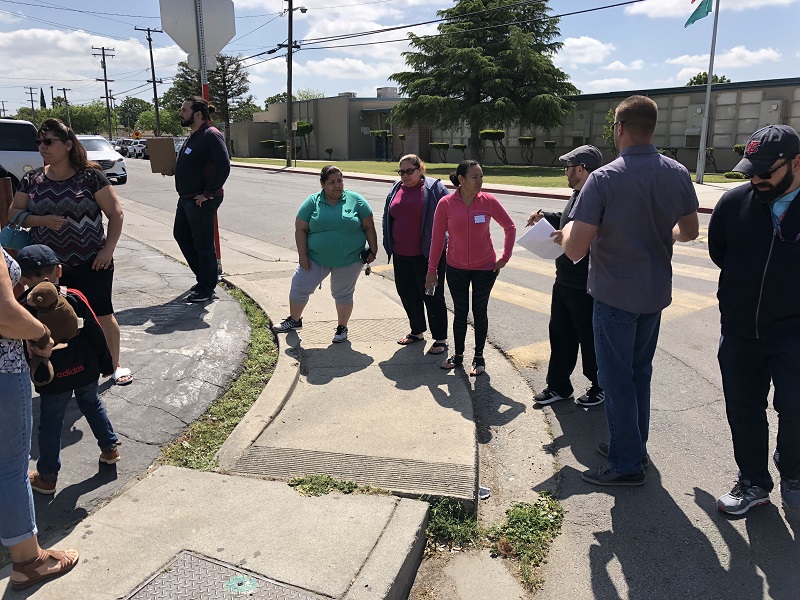 While traditional community engagement activities like neighborhood walk audits are not possible during COVID-19, there are creative ways to continue equitable community engagement during the time of social distancing.
We spend a lot of time talking about what equitable community engagement looks like. (For some examples, check out these community engagement cards with arts-based activities, a factsheet about community engagement's core role in equitable Safe Routes to Parks, a checklist for facilitating equitable engagement in the park visioning process, and a webinar about how youth can support policy change.) However, most of the best practices we usually recommend are not feasible in the time of coronavirus. For example, a community meeting with lots of face-to-face conversation, hands-on activities, and a shared meal is the last thing we should be doing right now. We imagine that many of you are asking yourselves the same question: How do we meaningfully and equitably engage communities in planning and decision-making processes in the time of social distancing?
Technologies like video conferences and online surveys are great tools, but simply moving planned content to an online platform isn't going to be effective at engaging the folks who are already left out of traditional approaches: older adults, non-English speakers, immigrants, people living unsheltered, people of color, people with disabilities, low-income service workers, and other people who don't have reliable access to the internet. These are the people who are continually excluded from the traditional decision-making process, and sticking with go-to methods in an online format, perpetuates the status quo. The COVID-19 pandemic offers us an opportunity to re-center equity in our work and maintain our commitment to dismantling the systems that continually disregard and oppress these groups.
This is easier said than done, but to offer some concrete suggestions for how to equitably engage community members in the time of COVID-19, we consulted our staff and our 2020 Safe Routes to Parks Activating Communities grantees. Based on those conversations, we have outlined three general themes to guide how we are thinking about engagement and contributed to a crowdsourced collection of engagement strategies that you can also share and add to.
Frame engagement not just as a checkbox, but an essential part of the process
We may be tempted to move projects forward by doing basic virtual engagement and then circling back later for engagement with specific populations. That is not enough if we are truly concerned about incorporating equity into these processes. Community engagement and community voice are an essential part of projects that are meant to serve the community. Consider adjusting your timeline and deliverables if you can. If that isn't possible, focus on going above and beyond to reach out to underrepresented populations.
Throughout the process, emphasize and help community members understand the value of their experiences as important data for planning and decision-making efforts. Their stories and experiences are qualitative data that should carry weight in how we decide to move projects forward. Show that in your approach to engagement as well. We usually advise against community meetings where community members are just talked at for an hour, so why would we do that now on a digital platform?
Think about how you can share power during meetings; co-create agendas using google docs, ask community members what they want to do right now and implement what they choose, and hand over facilitation to different community members. Reach out to residents early through multiple channels to make sure they are informed about remote options for public meetings, topics that will be discussed, and how they can participate. Send any relevant preparatory materials before the meeting so people are ready to participate. This also allows people to submit questions and comments before the meeting.
Bridge the digital divide
Tuolumne River Trust in Modesto, California was trying to figure out how to reach community members virtually, but first needed to understand whether their community members had access to the internet at home and the technical knowledge for engaging on digital platforms. They used this survey to assess the number of people with home internet access, their level of comfort using online engagement platforms, and the tech skills they would like to develop. They also asked community members whether this still felt like an appropriate time to be working to improve park access, or whether that needed to be placed on the backburner for now. This first step meant that they knew what resources to provide to make sure that they brought as many people as possible into their ongoing work to increase safe and equitable access to parks. As a result of that survey, they are now holding meetings twice a month with a core group of community advocates. For each meeting, half of the time is focused on building technical skills and the other half is dedicated to working on park access projects.
To apply this in your community, figure out how people can and want to connect, whether it is via zoom meetings or phone trees. If you settle on a more technically challenging medium, consider doing phone calls to walk people through setting up their computer or other device for video conferencing so that they feel comfortable and ready to fully engage. For public meetings, consistently provide an adequate telephone option and ensure that comments can be shared via phone. Give ample time and opportunities for the public to submit comments before the meeting's start time, such as via email or by leaving a voice message at a dedicated phone number. Read these comments aloud on the record during the meeting for the whole group. 
Take steps to specifically accommodate people with disabilities in your virtual engagement. Check out this page from the University of Minnesota to see ways to make virtual meetings and presentations accessible to people with vision or hearing impairments.
For people who will not be able to connect via the internet, consider sticking with phone calls to build relationships, hear people's stories, and simultaneously connect them to any resources they may need. In Holyoke, Massachusetts, advocates who are working on Safe Routes to Parks are also using this time to call older adults to check if they are feeling isolated and if they have enough food and medication. Community engagement is about relationship; showing up for people when they need help is part of an equitable process.
Meet people where they are
Active transportation and public space may not be top of mind for most people right now. Be sensitive to people's needs and concerns; it may not be the time for asking them to fill out a survey. However, mobility and public space advocates can use their specific skills and resources to support communities during this time while also building relationships and momentum that support further work aligned with their advocacy goals.
For example, this time can be a great opportunity to help community members build technical and community advocacy skills that can organize and sustain mutual aid networks right now while also building skills for people to advocate for their community's needs and desires in future planning and decision-making processes. In Flint, Michigan, Crim Fitness Foundation is holding live-stream "community conversations," digital lunches, and teaching people how to use Zoom and other remote technologies.
This time of crisis has highlighted and exacerbated issues of access and equity that have been there all along. Now is a great time to acknowledge those interconnections. Here is a blog post where we list out pressing issues like getting people to fill out the census and supporting access to food and how active transportation advocates can be allies to those causes.
Now is the time to act on our commitment to equity, support the communities we work within the ways they need it, and not rush the process of community engagement to create Safe Routes.