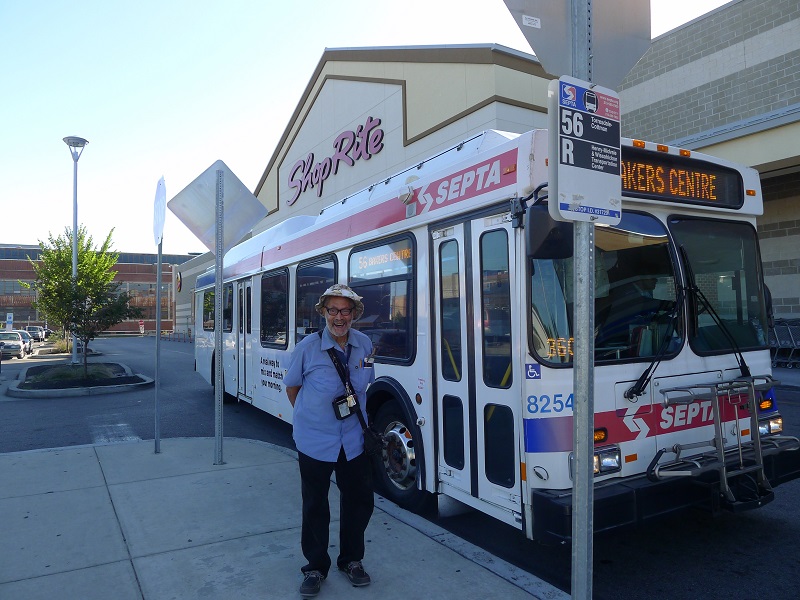 This blog post was co-authored by Becky Gilliam, Demi Espinoza, and Kari Schlosshauer
In addition to our national work, the Safe Routes Partnership works in targeted areas to advance healthy transportation options at the regional level, where the decisions made and resources allocated define what is possible for very large populations. Our Regional Network team works on the ground in California and the Pacific Northwest to improve funding for Safe Routes to School and active transportation; rally networks of supporters; and advance regional planning, Complete Streets, Vision Zero, and environmental justice. Through these efforts, we have regularly partnered with public transit service providers. We advocate for safe, accessible public transit and active transportation options, especially for communities of color and under-resourced communities who depend on transit to get around. And during these times of rapid changes and uncertainty, we've noticed that's one word that keeps coming up: Essential. Transit is a lifeline to help essential workers get to and from work, and to ensure that everyone else can get to the grocery store and critical destinations.
Local and state governments are issuing stay at home orders and asking that only essential workers leave home for work and for everyone to stay home unless they have an essential trip like getting groceries or going to medical appointments. Many people do not have the privilege of staying home and will continue to require transportation options to get to and from essential jobs, grocery stores, and other services. This pandemic shines a spotlight on everyone's need for safe, affordable and healthy transportation options and makes it clear that public transit is an essential service. It has also highlighted some of the inequities of transit options for low-income and communities of color – riders who depend on transit services most. We've seen various approaches and responses to transit in the regions we work in and want to share some key takeaways, lessons learned, and solutions we have seen working for transit agencies through COVID-19.
Prioritize Worker and Passenger Safety in Daily Operations
As we all make adjustments during COVID-19, we're noticing that even small changes can go a long way. The U.S. Centers for Disease Control provides recommendations on its website for how transit workers can stay safe through COVID-19. In addition to workers taking precautions, here are some examples of how we're seeing transit agencies adjust daily operations to maximize safety for its riders and workers:
Go Fare Free: Offering free trips for transit riders can both reduce passenger/operator interaction and provide much-needed relief to those who rely on taking essential transit trips. We applaud our partners at Salem Area Mass Transit District and Lane Transit District in Oregon, and OmniTrans in San Bernardino County California for suspending fares for all riders during this time.
Keep it Clean: Transit agencies must disinfect all transit vehicles thoroughly and frequently, and practice transparency around sanitation efforts.
Space Out Passengers, Not Services: Implement adequate social distancing measures like requiring spaced-out seating and physical distance between passengers, reducing the number of passengers on board, offering touch-free boarding, and designating safe waiting areas until the bus or train arrives. However, as transit agencies are implementing physical distance between passengers, buses are filling up faster. So if rider capacity is being capped and frequency of service is being cut, riders will need to wait longer for buses, putting them at greater risk of potential exposure and delaying their travel to essential places. An analysis by TransitCenter found that 2.8 million commuters with jobs in pandemic-critical categories — including nurses, orderlies, grocers and pharmacy clerks — rely on public transit under normal conditions. We encourage steady and frequent transit service through COVID-19, even on lines that have seen a decline in ridership, to safeguard routes to essential services and jobs.
Provide PPE for Transit Workers and Riders: All across the country, transit agencies are enacting safety protocols that require workers and riders to wear some type of personal protective equipment (PPE), such as masks or face coverings. PPE is a matter of safety, and transit agencies must provide PPE to all essential transit staff including operators, maintenance and cleaning workers. The Guardian released a report saying that nearly 100 transit workers across the country have died amidst a lack of basic protections. Transit providers must provide PPE such as masks, physical barriers, sanitation, and other protections to their transit workers. We also encourage transit agencies to provide PPE to transit riders, especially since overwhelmingly riders are essential workers and under-resourced residents. However, policing riders' use of PPE is not the answer to combat the spread of infections. Providing masks, gloves, disinfectant wipes, and other safety measures are the type of solutions we need to address this public health crisis.
Reduce Harm in Communities of Color by Condemning Over-Policing on Transit
Transit agencies should consider the needs of the community right now and operate from a place of empathy and flexibility with passengers. In Portland, TriMet has continued cashless fare collection and fare enforcement during the COVID-19 crisis, and community members have shared images of fare enforcement officers without PPE approaching passengers to verify fares. Not everyone has an electronic fare card, nor can immediately access one before boarding transit.
In Philadelphia, the SEPTA transit police engaged in an excessive use of force when they ejected a man from a bus for not wearing a face mask. Photos and videos went viral on social media accounts across the nation showing at least eight officers on the scene, many of whom were white, violently removing a black man off a bus. Since then, Philadelphia's transit agency (Southeastern Pennsylvania Transportation Authority, SEPTA) made changes to their protocol, including urging riders to wear protective face coverings rather than requiring them, and now provides masks for riders. This change is a good step in the right direction but it didn't need to escalate to police violence in order for SEPTA to provide a basic safety need to its riders.
Enforcement in transit, particularly over-policing and racial profiling, is a concern and poses a threat to the safety of many communities of color across the country. We condemn over-policing in transit that will lead to criminalization of communities of color on transit.

Center Community Needs in Outreach & Planning Efforts
Transit agencies must practice meaningful community outreach and engagement through this time. Last month, the Salem-Keizer Area Mass Transit District (SAMTD) abruptly suspended all transit services to help stop the spread of COVID-19, as several bus operators had recently tested positive for the virus. We, along with several partnering organizations and community members, shared concerns for the dramatic impact this sudden shutdown would have for transit riders and workers. One week later, SAMTD announced that services were back on for those with "essential trips" only, with fare-free rides and increased social distancing measures. We're relieved to see SAMTD services back up and running with increased protections for workers and riders, and we see Salem as an example of a transit agency forced into a difficult decision to prioritize public health, but the decision was also made with very short notice for transit users and offering no support for stranded riders. Since resuming service, SAMTD has exercised much stronger communication tactics to share updates with the community. Riders must be informed of changes to service, with ample online messaging and adequate notification at bus stops. Communications must also be provided in languages frequently spoken by riders and disseminated through culturally-relevant platforms, to ensure that riders are properly informed.
In Los Angeles, ACT-LA alongside Investing in Place have been advocating for Metro to provide more equitable transit access. Some of their recommendations including suspending fares, providing sanitation stations, maintaining a high level of transit service lines, and preparing a community engagement plan. Overall, Metro has yet to meet these recommendations. In hopes of better understanding transit needs, ACT-LA has responded by conducting transit rider assessments by surveying riders on how COVID-19 has impact their travel and how they are adapting to get around.
We realize that many decisions need to be made quickly and changes implemented swiftly to protect public health and safety. During this time of uncertainty, we also need stronger communication, transparency, and leadership from decision-makers. Whenever possible, we need decision-makers to insist on hearing from the community before making changes, and to always ensure that robust communication is a part of implementation of changes. In March, the Portland area's transit agency prioritized service that enables essential workers such as medical professionals to get to work, but their decision to stop accepting cash while still charging fares (in order to protect operators) came under criticism both for its behind-closed-doors process as well as the impact on community members who don't have electronic fare cards. This is a concern for those who cannot immediately access a fare card before boarding transit, because there have also been reports of ongoing fare enforcement.
Transit agencies must also prioritize transit services for community members with the highest need through this time. We can look to Boise for an example of how transit agencies can center community needs in short-term service changes. Valley Regional Transit (VRT), Idaho's largest public transportation provider, has shifted its current services to prioritize "transit-dependent people." VRT assessed where essential workers live and work and increased transit service on those lines, while decreasing operations on lines serving people who were able to stay home.
In addition to short-term changes to services and operations, transit agencies should also consider the pandemic's impact on meaningful community engagement for long-range planning efforts. If equitable participation in ongoing planning processes isn't an option, that might mean putting important projects on hold. In the Eugene-Springfield area,  Lane Transit District (LTD) has postponed their long-range planning efforts to redesign the local transit system, "until the community can participate in a meaningful way." This is another strong example of centering the community through this pandemic.
Here are some additional in-depth resources on community engagement and planning that we encourage transit partners to check out:
Embrace Change – The Path Forward
When we emerge from this public health crisis, more than ever we'll need robust public transit to keep us getting around our communities. We are all anxious for an end date, eager for things to "go back to some kind of normal." But even if it were possible to "go back," we know that our existing transit system will no longer work, and for some it never worked in the first place. Through these times of uncertainty, transit agencies have had to make difficult decisions that cause dramatic impacts for riders and workers. We've also seen transit agencies prioritizing essential services for communities who really need it, and transit workers given increased protections and appreciation through this time. As we all push forward through this challenge, we encourage transit agencies to embrace some of these impactful changes and consider how to institutionalize some of these practices going forward. We encourage advocates to work with transit agencies in the following areas:
Free Fares: Continue to provide free fares to students, people with disabilities, elders, and under-resourced communities. Eliminate fare enforcement, particularly the criminalization of fare evasion.
Living Wages for All Transit Workers: Transit operators are essential workers who need to be paid living wages and health benefits to support themselves and their families. Transit workers provided an invaluable service by getting many essential workers to their jobs every day. We should not forget the role they played in keeping everyone safe.
Provide Access to the Most Critical Service Lifelines: Agencies should do an assessment of their service routes that connect to hospitals, grocery stores, schools, and other essential services. Ask community members what lines are most important to them? What lines have been cut and need to be reopened to better serve communities?
Leverage Federal and MPO Funding to Respond to Recovery Operational Costs: We know the road to recovery after the pandemic will be a hard one. We know many transit agencies were already struggling with transit operational costs before COVID-19. We encourage agencies to work with advocates as we urge more federal, state, and regional investments be allocated to transit operations. The $25B emergency federal COVID-19 emergency funding Congress provided to transit should be the beginning. State and regional agencies, alongside transportation commissions, need to help transit agencies bounce back even stronger.
Pass Investments in Transit Operations and in Zero Emission Fleets: During this pandemic, our country has witnessed some of the cleanest air in decades. In the last month, the City of Los Angeles and its surrounding areas have had the longest stretch of consecutive days of clean air since 1980. Several media outlets are reporting cleaner air days are due to the decrease of drivers on the road during the stay at home ordinances. We need to keep up the momentum toward cleaner air, and transit plays a tremendous role in ensuring we keep our emissions down. We support transit investments to ensure we can expand service, phase projects quickly, and have the options to take the bus, metro, or subway to get to our destination. We also encourage prioritizing transit projects that use zero emission fleets. Many state and federal programs offer incentives to do this and we encourage agencies to take advantage of these programs.
At the Safe Routes Partnership, we are committed to supporting our partners at transit agencies through the challenges ahead. We know that public transit and active transportation options are essential for the communities we work in, and we invite you to join in these efforts to ensure a safer and more equitable transit system for all.
Other Blog Posts in This Series