#WalktoSchoolEveryDay for Every Child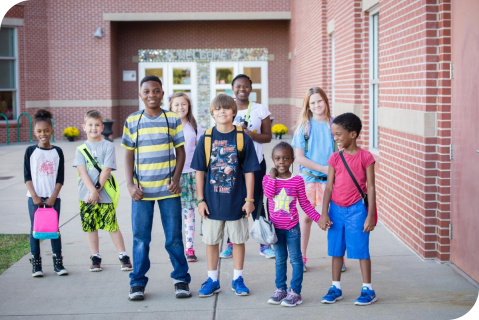 "The biggest challenge we face is not a challenge of body, but a challenge of mind. We need to change a lot of folks' mindsets about walking to school, because for many people the thought never crossed their mind. It's really helpful to see stories of what other schools and communities are doing, not only to see what's possible, but to inspire us as well." – Drew Wiesel, teacher at Schmitt Elementary School, Denver, CO
You don't have to look much farther than the many enthusiastic photos and messages from Walk to School Day last week to see how many of us believe that every kid in America – regardless of race, ethnicity, income, or ability – deserves the freedom and safety to walk to school.
Here are three ideas for continuing to build momentum in your community after Walk to School Day:
Start a Walking School Bus program at your school to welcome families to the world of walking to school. Our step-by-step guide outlines how to plan and implement a walking school bus for your school, and includes proven tools, tips and resources for a fast and easy start. 
Figure out what needs to happen at your school to get more kids walking and biking. Ask questions like: Are there sidewalks, crosswalks, and bike paths to help kids get around safely? Check out our fact sheets on tactical urbanism and Safe Routes to School to see how you can turn temporary traffic calming installations into permanent safety solutions.

Use our 

guide on how Safe Routes to School can protect kids from street harassment

 to help identify ways to make streets welcoming to all kids.