Funding, Organizing and Maintaining
Bicycle Fleets
Wednesday, September 14th, 2011 1-2PM ET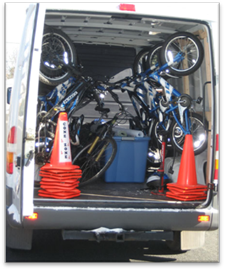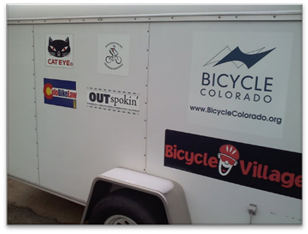 Delivering a comprehensive traffic safety lesson often includes the use of bicycles, yet most bicycle educators know that allowing students to use their own, often malfunctioning bicycles can interfere with valuable class time. Safe Routes to School programs that have funded, organized and maintained their own bicycle fleets have experienced unprecedented success through continued access to a functional fleet of bicycles.
Join us for presentations from advocates, schools and a bicycle manufacturer's grant program that built their individual programs through strategically funding, thoughtfully organizing and systematically maintaining fleets of bicycles for use in the classroom. This webinar will be an excellent resource for those who have not yet attained a bicycle fleet to those who are looking for pointers on how to better organize and upkeep their existing fleets.
Presenters:
Jessica Binder, education director, Bicycle Federation of Wisconsin
Jessica created and runs Bike Fed's statewide Safe Routes to School Programs, Bike Camps and adult bicyclist and motorist education programs.
Shane MacRhodes, program coordinator, Eugene 4J School District
Shane, known as the inventor of "Kidical Mass" rides, serves as the Safe Routes to School coordinator bringing innovative programs to schools throughout Eugene, including the district's permanent bicycle education program that includes a fleet of bicycles.
Mallory Burda, US advocacy coordinator, Specialized Bicycle Dealer Grant Program
Mallory leads the dealer grant program for Specialized that "is focused on charities and advocacy efforts that are exclusively dedicated to putting young people on bikes, making cycling safer for kids, or otherwise increasing the cycling population in the 'under18' demographic."
This webinar is part two of a six-part webinar series by the Safe Routes Partnership that focuses on bicycling and Safe Routes to School.
Thank you to the SRAM Cycling Fund for making this series possible.
For more information please contact Dave Cowan at dave@saferoutespartnership.org