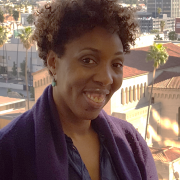 Organization: Los Angeles County Department of Public Health
Title: Healthy Program Analyst
Location: Los Angeles, CA
Shared use practice in Los Angeles County has had many successes, but in a county of 10+ million people, there is plenty room for more. Ruth co-convenes the Los Angeles County joint use task force Joint/Shared Use Moving People to Play (JUMPP). She and Task Force members work to engage district superintendents, health care professionals, the faith community, and non-profit organizations to champion shared use throughout Los Angeles County. She and the JUMPP Steering Committee and Task Force have created multiple resources to amplify shared use as a practice throughout the county, and specifically worked towards system change within the Los Angeles Unified School District, the second largest in the nation. Ruth worked to understand the systems within the district and bring in key staffers to make shared use is a more widely adopted practice with a specific focus on lower-income communities and communities of color.