The Port Towns Youth Council (PTYC) Wellness Ambassadors are at it again! On December 9, 2013 the Town Council of Bladensburg adopted the PTYC's Pedestrian Safety Policy. This policy adoption is the result of the 2013 Health Policy Summer Camp which culminated in the Walkers Wear White rally.

I have previously written about the Port Towns Youth Ambassadors. In the summer of 2012, they walked the Town of Bladensburg streets to complete a community mapping assessment. In the summer of 2013, the youth participated in a Health Policy Summer Camp. The goal of the camp was to give youth the information needed to write a policy based on the recommendations from the community mapping assessment.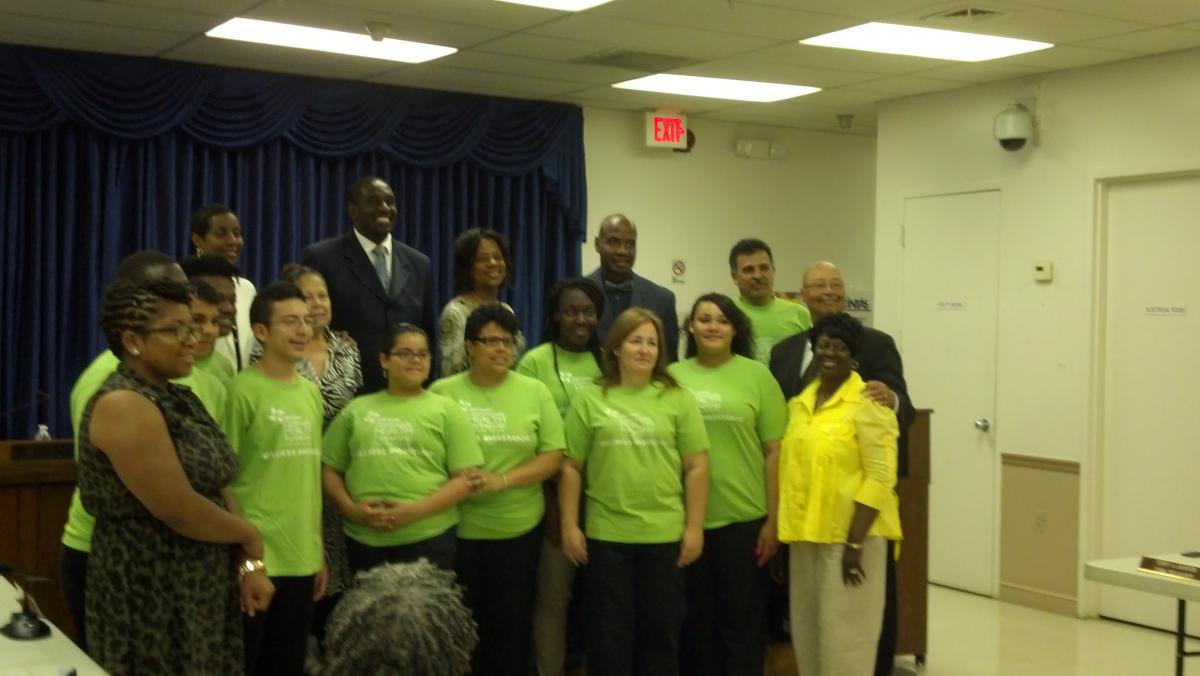 Port Towns Youth Council with the Town Council of Bladensburg after presenting their pedestrian safety policy.

The PTYC worked with the Prince George's Healthcare Action Coalition Pedestrian Safety Workgroup to learn about existing pedestrian safety initiatives in the county. The Pedestrian Safety Workgroup gave an in depth presentation on pedestrian safety street treatments, tips for being a safe pedestrian and developing pedestrian safety policy. The Town of Bladensburg Town Administrator briefed the students on policy writing.

With this information, the Wellness Ambassadors wrote a Pedestrian Safety Policy for the Town of Bladensburg. The policy encourages the Town of Bladensburg to incorporate bicycle and pedestrian facilities into their transportation systems. The Town also commits to working with appropriate agencies and departments to improve walking and bicycling for the community.
To promote pedestrian safety and physical activity, the Wellness Ambassadors recommended promoting pedestrian safety tips, declaring Walking Wednesdays for all residents, schools, churches and local businesses in the town and  greeting your neighbors while you are out walking and encouraging them to walk too. Finally, the youth would like to have bike share and bike racks throughout community.

To call attention to pedestrian safety, the Wellness Ambassadors organized the Walkers Wear White rally as the Health Policy Summer Camp final project. The students, community members and elected officials marched down a street in need of pedestrian improvements chanting "walkers wear white, especially at night."

The Wellness Ambassadors presented their policy to the Town Council of Bladensburg on September 9th. The presentation was given by the Wellness Ambassadors and was impressive as always. Mayor James committed to further working with the Wellness Ambassadors and to continue their commitment to pedestrian safety. The Mayor and Town Council kept this commitment by adopting the policy on December 9th. Congrats to the Wellness Ambassadors for making their community safer for physical activity.

To see the PTYC Wellness Ambassadors walking with elementary students on Walk to School Day, please see the Greater Washington DC regional blog.