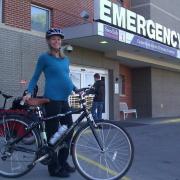 Please excuse the divergence from our regularly scheduled content. You see, between the time I wrote my last blog and the publishing of this blog my family has grown by one precious little girl, Madeline Mae Cowan (who, incidentally, has already expressed to me her deep and unwavering passion for walking and bicycling to school). While I'm sure that is quite interesting to you (the reader), what I think is far more spectacular is the story of how before she even entered the world she became a Safe Routes to School superstar.
If you regularly visit the Safe Routes Partnership's blog, you'll have read about CycloFemme a movement to get more women/girls on bicycles, participated in National Bike to School Day (NBSD) or perhaps taken Clif Bar's Two Mile Challenge to make all trips within two miles by bicycle. These three initiatives and my pregnant wife all collided the week before NBSD when I realized that my wife had scheduled the C-section for the morning of NBSD. In jest, I mentioned to her this scheduling faux-pas and asserted that now we must ride our bicycles to the hospital for we are advocates and thus we must advocate! Surprisingly, in a rather relaxed response to my ridiculous remark, my wife agreed.
Sarah (my wife) does not consider herself a bicyclist. She doesn't race, she doesn't spend weekends mountain biking, she spends plenty of time driving for her day job as a school nurse manager and her bike weighs almost as much as she does. She does however enjoy hopping on her bicycle to ride to the park, the library and within the confines of our neighborhood.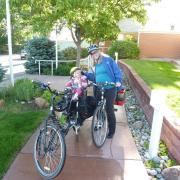 She enjoys riding to restaurants, stopping by friends' houses and cruising the community with our daughter in tow. In my eyes this is the symbol of a bona fide bicyclist! This became obvious when, on National Bike to School Day, Sarah and I mounted our bicycles and rode to drop our first child at daycare. We then continued on a short, two-mile journey to the hospital where our daughter Madeline was born. I'm fairly certain the nurses will be telling this story for some time to come. For Sarah, she was just going somewhere that she needed to get in what seemed like the easiest way to get there. However, to those that we passed on the street, the parents at daycare, the nurses in the hospital and now, those in the "web-o-sphere" she has inadvertently become an advocate for CycloFemme, a heroine of National Bike to School Day and a regular participant in the Clif Bar Two Mile Challenge. I promise you this was not her intention that morning as she pedaled away from our house towards our next life adventure; it was merely a side-effect.
As advocates for Safe Routes to School it is important to have our elevator speeches, standard talking points and a strong understanding of the intricacies of programs and policies that affect active transportation. However, it is absolutely crucial that we demonstrate through our actions that walking and bicycling is a perfectly normal, generally enjoyable and frequently time effective way to travel.
Do what I do, not what I say – this is the best form of advocacy, indeed.
Local Practice and Policy, a blog written by Dave Cowan, will cover many of the multifaceted aspects of his work here at the Safe Routes Partnership. Focusing on best practices, voices from the field and reflections on the Safe Routes to School movement as a whole, this blog will attempt to share a sliver of the good vibes, happy stories, and great people Dave has the pleasure of working with to further Safe Routes to School on a daily basis.