Birmingham's parks have been described as "gems" by the US Secretary of the Interior. But they're exceptionally difficult to access if you don't have a car. Public transit is limited, and it's not easy to bike or walk around Birmingham. In fact, many people in Birmingham hardly bike or walk at all.
Why? To start with, the streets don't feel safe for getting around on foot or bike. Birmingham was rated the 13th most dangerous city for walking in America in the 2019 Dangerous By Design report, and a 2016 report by the League of American Bicyclists determined that Birmingham was significantly behind other cities in biking infrastructure. No matter how close someone lives to a great park, if there aren't sidewalks, bike lanes, and safe street crossings, it's highly unlikely that people will want to walk or bike there – especially families with young children, older adults, and people with disabilities.
That was one of the problems facing the Smithfield and Titusville neighborhoods, two communities with a rich historical background of being home to African American families, small business enclaves, and churches. Memorial Park, with a baseball diamond, indoor and outdoor basketball courts, community pool, and playground, is convenient and close to these neighborhoods, but there was virtually no bicycle infrastructure that allowed people to safely ride to the park.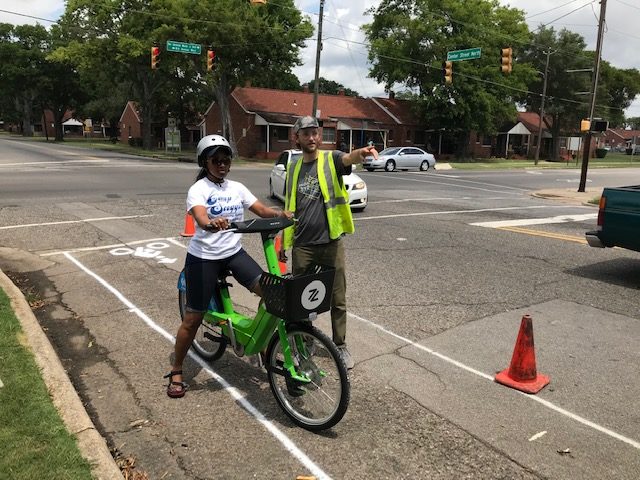 And there was another reason community members weren't biking.
As Keith Rawls, executive director of Zyp BikeShare, explained: "There's a stigma against bicycling among African American populations in Birmingham. The use of a bicycle for any reason other than recreation is seen as a sign of poverty." And this stigma perpetuates itself: If you don't see anyone who looks like you and lives where you live riding bikes, it's easy to believe that bicycling and bikeshare don't belong.
Many Birmingham residents – especially people of color, women, seniors, and low-income people—are among those who could most benefit from the health and community benefits of being able to walk or bike to a local park. They are also the least likely to ride bikes. Bikeshare programs like Zyp can be effective at introducing bicycling to new riders and people who don't get enough exercise, but first they would have to overcome the barrier of the stigma.
So, with technical assistance and grant funding from the Safe Routes to Parks: Activating Communities program, Zyp Bikeshare set out to change two things: Create a safe route for people to bike to Memorial Park, and shift attitudes and perceptions about biking and bikeshare in the Smithfield and Titusville neighborhoods.
The key to success? Robust and authentic community engagement.
Zyp Bikeshare already had three years of community engagement experience with residents of Birmingham. They had conducted more than 40 outreach events and multiple surveys to try to understand why residents weren't using bikeshare. These existing relationships within the community laid the groundwork for a working relationship built on trust and two-way dialogue about how bikeshare and bike facilities could enhance neighborhoods and improve residents' lifestyles.
Now, Zyp needed to show residents how it would feel, and how easy it would be, to bike to Memorial Park on a street with bike lanes. Rather than invite the community to another neighborhood meeting, they would give residents a hands-on demonstration of what biking in the neighborhood would be like with Complete Streets and bike lanes by installing a temporary pop-up bike lane on Center Street from Smithfield to Memorial Park.
In August of 2018, Zyp staff painted a temporary bike lane on Center Street leading to Memorial Park using street chalk and spray paint. They invited residents to come out, ride bikeshare for free in the temporary lanes, and talk about their experiences and desires for biking in the neighborhood.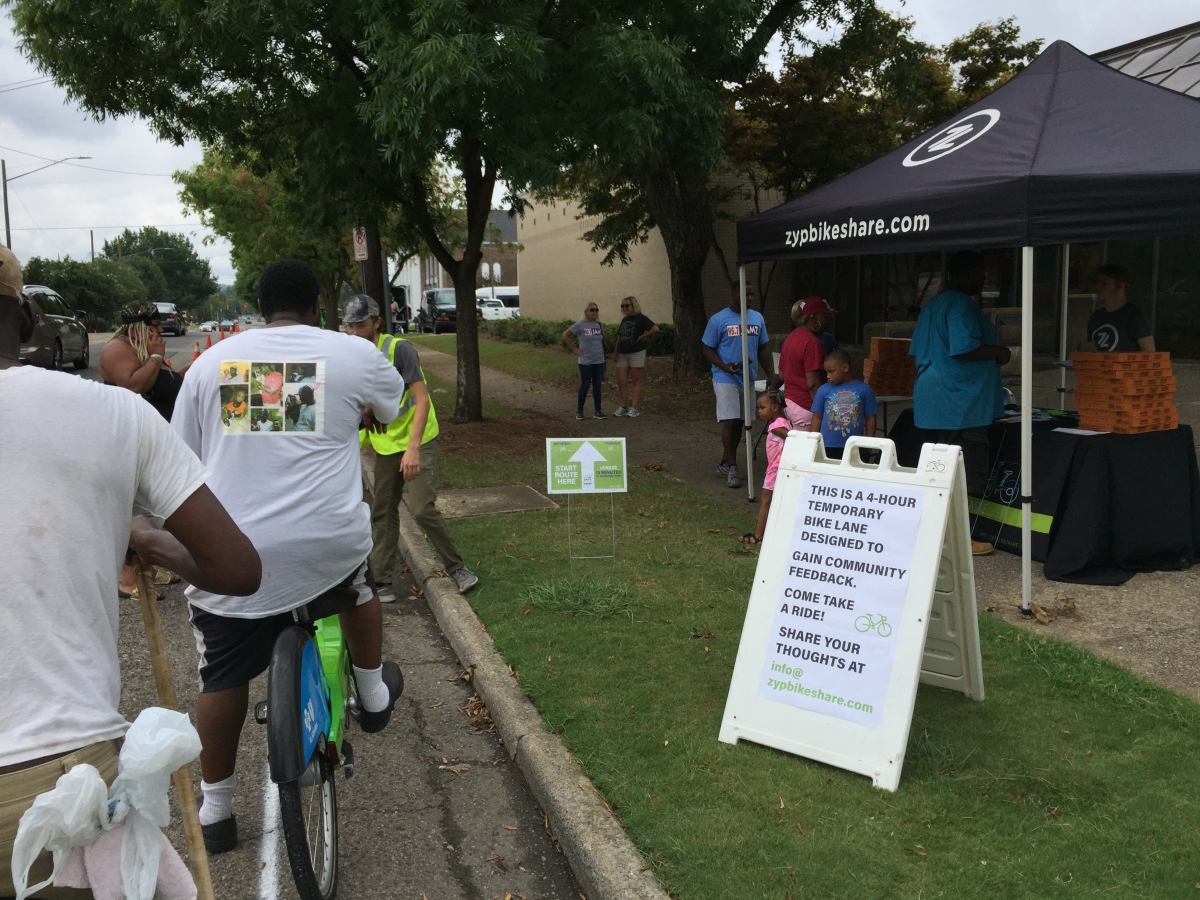 Keith explained Zyp's decision to host a tactical urbanism event: "Show me another Powerpoint presentation and my eyes are glazing over, I'm bored, I'm distracted. Coming out and riding bikes in the bike lane on the streets went a long way compared to hosting another town hall and pointing at a map saying 'we'll place such-and-such a street here.'"
Rather than publicize the event to the wider Birmingham community in the hopes that cycling enthusiasts would come out in droves, Zyp limited promotion of the event to the Smithfield and Titusville neighborhoods. It was much more important to make meaningful connections with neighborhood residents than create the impression of a widely attended event.
The pop-up project was an undeniable success. Keith described being blown away by "the outpouring of support and excitement from the Smithfield and Titusville communities, and their willingness to get out on the bikes and experience their streets and communicate to us their desire to have biking infrastructure in their city."
For residents, seeing their neighbors, friends, and people who looked like them and lived near them riding bikes helped shift perceptions about how biking could fit in with the neighborhood. Keith said: "Having people representative of the community showing up, and not having the usual suspects at the event – that allowed that barrier of the stigma to be lowered. It showed the neighborhood, 'This isn't about anyone else. It's about you.'"
The city of Birmingham is now moving forward with a plan to stripe permanent bike lanes on Center Street from Smithfield to Memorial Park. Zyp BikeShare plans to keep residents informed about the progress of the bike lane once construction kicks off in the spring of 2019.
"Bike lanes can be looked at as changing the community, a change that doesn't include the residents who already live there. For them to welcome us with open arms and say, 'Yes, we want this for our community, we want bike share, we want to ride bikes more in our community – that's a sign that our community engagement was successful," said Keith.