October is such a great time of year. And I love International Walk and Bike to School Day which its taking place this year on October 9! There is so much to celebrate during this October, here is my top five list:
1. Walk and Bike to School Day could break another record! We are celebrating that Active Kids Do Better with a new 30-second public service announcement in partnership with our Let's Move Active School effort. Check it out!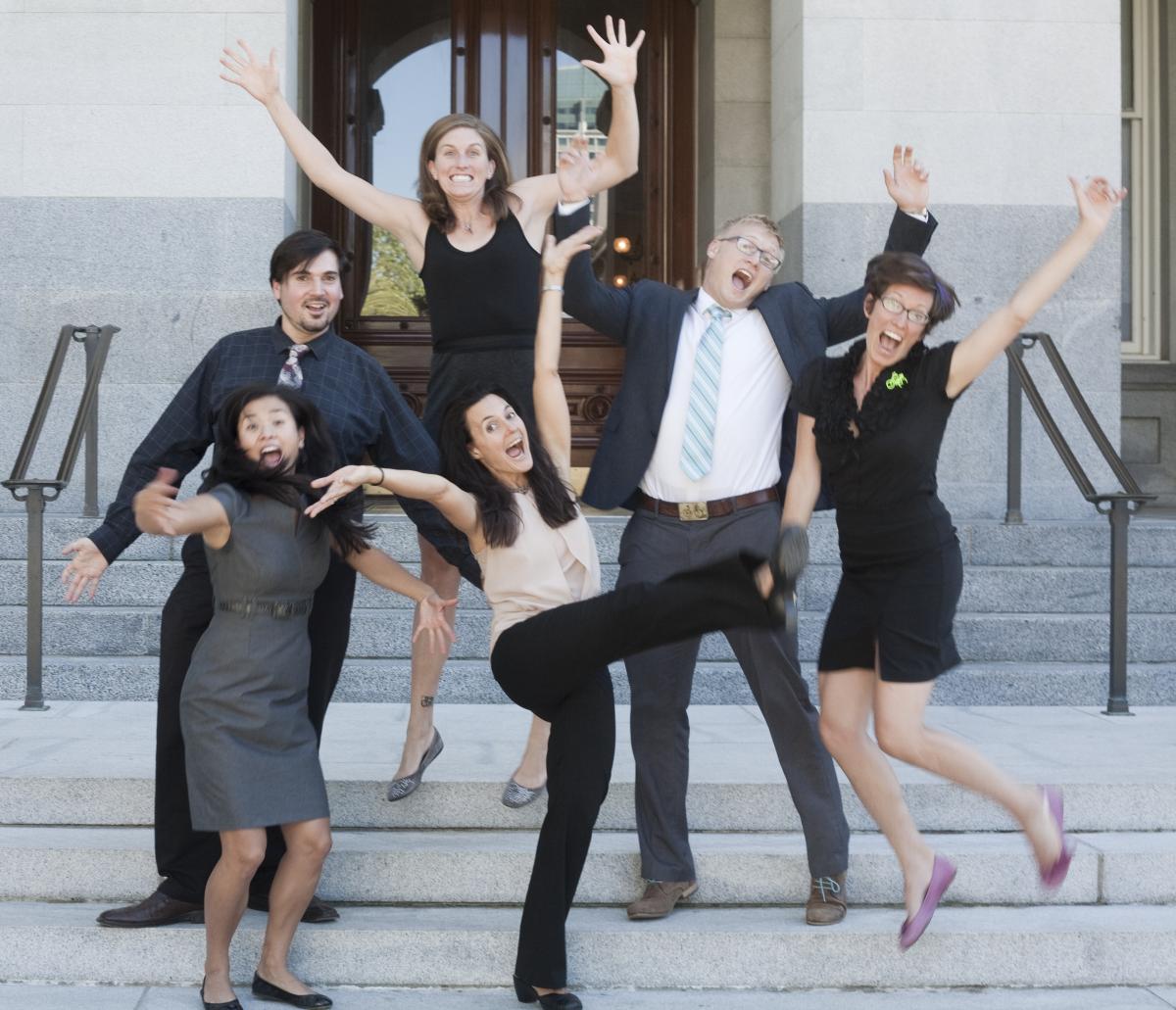 CA Safe Routes Partnership staff jump for joy with the news of the new Active Transportation Program.
2. Our coalition work in California that led to victory! The Governor just signed a bill that establishes a new Active Transportation Program at $130 million/year which is 35 percent more funding for walking and bicycling. Plus, the fund retains Safe Routes to School and guarantees at least 25 percent for disadvantaged communities and schools.
3. The inspiring and empowering Walking Summit in Washington, DC last week! Hundreds gathered and were not daunted by the mood in Washington.  Instead these leaders galvanized the walking movement; read what Streetsblog had to say.
4. Fire Up Your Activity Challenge kicks off!  350 schools and thousands of participants are walking, rolling, jumping and dancing their way to earn more than $50,000 in available awards to support physical activity in their schools.  It is not too late to join in or check it out for the spring!
5. My new mountain bike! Prior to this you would see me mostly bike commuting on my commuter bike—now I am falling in love with the trails on Mount Tam too.
What are you celebrating this month? 
A new city wide task force for Safe Routes to School? 
Passage of a Complete Streets policy ? 
Your first Fire Up Your Feet campaign?
We love hearing about your success stories and lifting them into the spotlight. Share your stories with this simple-to-use webform and send us pictures with your captions for our usage in publications or to provide to the media.  We know you'll be getting a lot of great photos on Walk and Bike to School Day – please share them!
As we inspire and empower each other through our collective amazing local efforts, we create great momentum and change nationally.