Research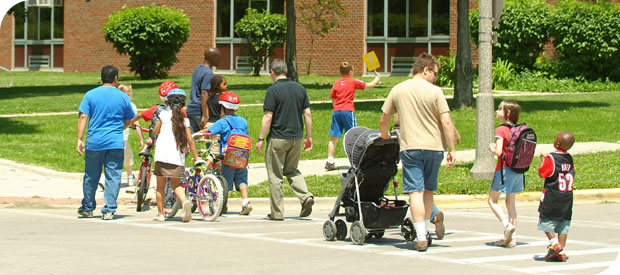 Academic Research Related to Safe Routes to School, Shared Use, and Active Transportation
The Safe Routes to School National Partnership regularly summarizes and updates relevant research in the realm of Safe Routes to School and active transportation.  Why do we care about research?  Research helps us understand problems and solutions when it comes to Safe Routes to School and other physical activity opportunities.  Research tells us why problems like childhood obesity have emerged and explains the differential effects on different racial and economic groups, different geographic regions, and rural, suburban, and urban residents.  Most importantly, research assists us in understanding the most effective approaches to improving the health and well-being of all children and adults. 
Research can also help make the case for Safe Routes to School, shared use, and bicycling and walking investments to legislators, funders, school officials, city officials, and parents. Research helps us understand the scope and impact of our core issue areas on larger related societal issues like childhood obesity, physical activity, academic achievement, traffic congestion, and the built environment.
Our research section contains is divided into topical subsections that investigate relationships between Safe Routes to School, active transportation, physical activity, and:
Obesity and health;
Academic performance and attendance;
How people travel and what affects their travel decisions;
Safety for walking and bicycling; and
The effects of active transport on air quality and the environment.
Each section starts with a brief overview of key conclusions and a list of research highlights.  Synopses of articles of interest follow, including key points, methodology, and a link to the full article (sometimes behind a paywall).  
In addition to the academic research cited in this section, the Safe Routes to School National Partnership has identified areas for which additional research is needed and a variety of specific research questions.  Continuing to expand the research base for Safe Routes to School will allow for more robust and scholarly analysis of promising trends and best practices.  We welcome opportunities to brainstorm or collaborate with researchers in designing studies that delve into these or other related topics.
If you have academic studies to share for potential inclusion in this research compilation, or would like to share a research idea or opportunity for collaboration, please contact sara@saferoutespartnership.org.
Key takeaway:
In this study, interactions with parents and peers and availability of sedentary media activities, after-school programs, and community centers influenced frequency and intensity of physical activity.
KEY TAKEAWAY:
Regular participation in physical activity and higher levels of physical fitness have been linked to improved academic performance and brain function, including attention and memory.
Key takeaway:
A comprehensive approach to bicycle safety incorporates bicycle education in addition to road engineering.
Key takeaway:
 In this study, increases in perceived safety were associated with increased recreational walking, but not walking for transportation.
Key takeaway:
The long-term health benefits of physical activity through active travel generally outweigh the health risks of air pollution.
Key takeaway:
This study documents the implementation of Active & Safe Routes to School (ASRTS) in an indigenous community in Canada.