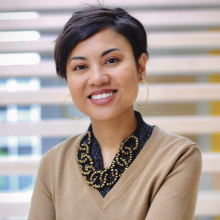 Technical Assistance Manager
(503) 893-9049
Portland, OR
Maria Gabrielle Sipin serves as the Technical Assistance Manager. In this role, they are responsible for advancing the technical assistance and policy-related work of the Safe Routes Partnership with an emphasis on accessible processes and racial justice outcomes. This work involves a spectrum of activities such as strategizing, forming, researching, implementing, and evaluating to best support partners, priorities, and goals for transportation projects and policies for healthy communities.
Maria Gabrielle Sipin is an experienced facilitator for all ages and abilities and is committed to making the work fun, accessible, and successful. Maria is actively involved in local community efforts to expand youth involvement in planning, to grow community power in public budgeting processes, and to implement climate justice and clean energy programs through grantmaking, policy advocacy, and coalitions.
Maria Gabrielle Sipin holds a Master in Urban and Regional Planning from Portland State University and is a candidate for a Master in Public Health from OHSU-PSU School of Public Health, and holds a Bachelor of Science in Communication – Journalism from Cal Poly Pomona. Maria is certified by the League of American Bicyclists (LCI #3846) to teach a comprehensive bicycle safety curriculum and has been tailoring and delivering workshops in-classroom and on-road for biking, walking, and rolling for 10 years in their hometown of Los Angeles and current location Portland. Maria brings their experience from working at the Oregon Department of Transportation as an operations and policy analyst for active transportation, working at Children's Hospital Los Angeles as a training specialist and technical assistance coordinator, and serving on boards for People for Mobility Justice and Participatory Budgeting Oregon.