Quick Facts and Stats
Here are some quick facts and statistics on Safe Routes to School. Find more information in our our publications and our library of resources.
Helpful Statistics on Safe Routes to School
Health and Obesity
Children today are simply not getting enough physical activity, contributing to growing rates of obesity and obesity-related health problems, such as diabetes. Safe Routes to School projects make it safer for more children to walk and bicycle to school, which will help address this obesity crisis among children by creating increases in physical activity.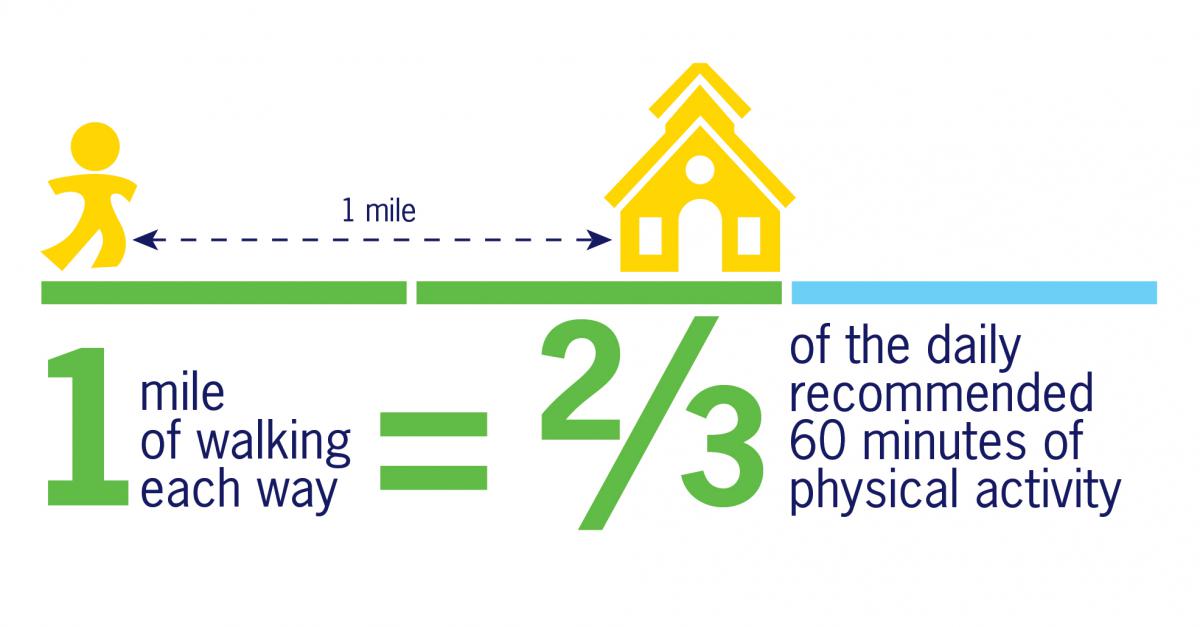 Over the past 40 years, rates of obesity have soared among children of all ages in the United States, and approximately 25 million children and adolescents—more than 33%—are now overweight or obese or at risk of becoming so.
Kids are less active today, and 23% of children get no free time physical activity at all.
The prevalence of obesity is so great that today's generation of children may be the first in over 200 years to live less healthy and have a shorter lifespan than their parents.
High rates of obesity and low rates of physical activity mean that more than half of Latina girls are expected to get diabetes over the course of their lifetime, and the numbers are almost as high for African American girls.
Today, approximately one-quarter of health care costs in the United States are attributable to obesity, and health care costs just for childhood obesity are estimated at approximately $14 billion per year.
People living in auto-oriented suburbs drive more, walk less, and are more obese than people living in walkable communities. For each hour of driving per day, obesity increases 6 percent, but walking for transportation reduces the risk of obesity.
Walking one mile to and from school each day is two-thirds of the recommended sixty minutes of physical activity a day. Plus, children who walk to school have higher levels of physical activity throughout the day.
Physical Activity and Academic Performance
Physical activity and fitness boost learning and memory in children; fitness-associated performance benefits are largest for those situations in which initial learning is the most challenging.
Sixth- and ninth-grade students with high fitness scored significantly better on math and social studies tests compared with less fit students, even after controlling for socioeconomic status.  Muscular strength and muscular endurance were significantly associated with academic achievement in all grades.
Lower performing students appear to derive particular benefit from physical activity.  In addition, short bicycling exercise periods resulted in enhanced neuronal activity and increased cognitive performance for teenagers with intellectual and developmental disabilities.
When children get physical activity before class, they are more on task and fidget less.  This is true for both girls and boys, and has been shown to be particularly beneficial for children who have the most trouble paying attention and those with attention deficit disorders.
SAFETY
Safe Routes to School projects focus on infrastructure improvements, student traffic education, and driver enforcement that improve safety for children, many of whom already walk or bicycle in unsafe conditions.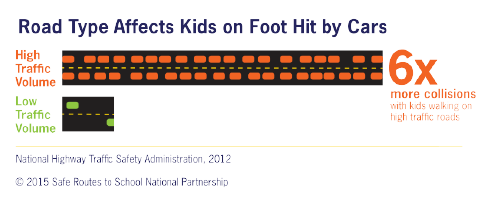 People walking are more than twice as likely to be struck by a vehicle in locations without sidewalks.
In 2009, approximately 23,000 children ages 5-15 were injured and more than 250 were killed while walking or bicycling in the United States.
More than 7% of high school students reported missing at least one day of school in the past 30 days because they felt unsafe from bullying or violence either at school or on their way to or from school.
The medical costs for treating children's bicycle and pedestrian fatalities cost $839 million in 2005 and another $2.2 billion in lifetime lost wage costs.
A safety analysis by the California Department of Transportation estimated that the safety benefit of SRTS was up to a 49 percent decrease in the childhood bicycle and pedestrian collision rates.
Environment
Safe Routes to School projects increase the number of children walking and bicycling to school, which also cuts down on the number of cars. As cars emit pollutants for each mile traveled, reducing traffic can improve the quality of air that children breathe in and around their schools.
Returning to 1969 levels of walking and bicycling to school would save 3.2 billion vehicle miles, 1.5 million tons of carbon dioxide and 89,000 tons of other pollutants—equal to keeping more than 250,000 cars off the road for a year.
Children exposed to traffic pollution are more likely to have asthma, permanent lung deficits, and a higher risk of heart and lung problems as adults.
Over the last 25 years, among children ages 5 to 14, there has been a 74 percent increase in asthma cases. In addition, 14 million days of school are missed every year due to asthma.
One-third of schools are in "air pollution danger zones."
Schools that are designed so children can walk and bicycle have measurably better air quality.
A 5% increase in a neighborhood's "walkability" reduces vehicle miles traveled by 6%.
Returning to 1969 levels of walking and bicycling to school would save 3.2 billion vehicle miles, 1.5 million tons of carbon dioxide and 89,000 tons of other pollutants—equal to keeping more than 250,000 cars off the road for a year
TRAFFIC CONGESTION
Neighborhoods are becoming increasingly clogged by traffic. By boosting the number of children walking and bicycling, Safe Routes to School projects reduce traffic congestion.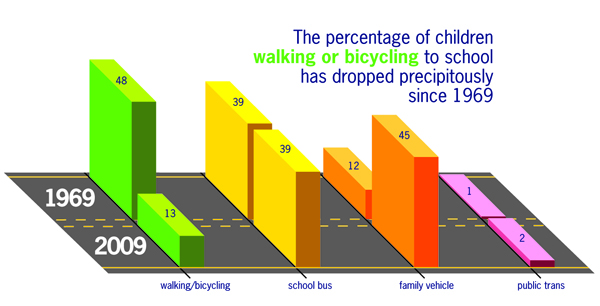 Within the span of one generation, the percentage of children walking or bicycling to school has dropped precipitously, from approximately 50% in 1969 to just 13% in 2009.
A study of more than 800 schools in DC, FL, OR, and TX found that Safe Routes to School interventions resulted in an average 31% increase in walking and bicycling to school over a five-year period, with up to 43% for comprehensive approaches with infrastructure and multi-year programs.
While distance to school is the most commonly reported barrier to walking and bicycling, private vehicles still account for half of school trips between 1/4 and 1/2 mile—a distance easily covered on foot or bike.
In 2009, American families drove 30 billion miles and made 6.5 billion vehicle trips to take their children to and from schools, representing 10-14 percent of traffic on the road during the morning commute.
Bus Transportation Costs
Schools often make cutbacks in bus routes to save money—meaning that more children will be walking and bicycling in potentially unsafe conditions, or more parents will drive their children, which increases traffic congestion and air quality concerns.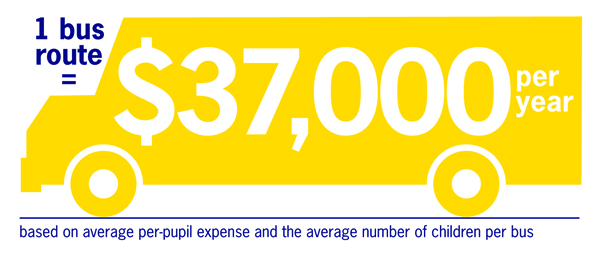 Approximately 55% of children are bused, and we spend $21.5 billion nationally each year on school bus transportation, an average of $854 per child transported per year.
Eliminating one bus route, based on average per-pupil expenditure and average number of pupils per bus, would save a school district approximately $37,000 per year.
Nationwide, approximately 22 percent of school districts made busing reductions during the 2010-2011 school year due to fuel price increases.