Sara Zimmerman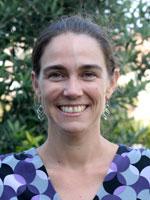 Sara Zimmerman
Program & Policy Director
sara@saferoutespartnership.org
Sara Zimmerman serves as Program & Policy Director Director for the Safe Routes Partnership. As Program & Policy Director Director, Sara works to support communities in obtaining the resources and advice they need to increase physical activity and safe walking and bicycling for children and adults. Sara oversees the work of the Program and Policy team in providing high quality assistance and advice to low income communities and other communities of different sizes and in different regions across the country. 
Sara worked most recently for ChangeLab Solutions, a national nonprofit that helps communities overcome legal and policy barriers to healthy communities. At ChangeLab Solutions Sara worked as a senior staff attorney and program director. Sara developed a new program area focusing on active transportation, creating policy tools to support Safe Routes to School, smart school siting, complete streets, and bicycle and pedestrian friendly communities.  One substantial area of Sara's work involved helping communities overcome the barrier to healthy policies posed by fear of liability. Sara produced many written tools, including factsheets, model policies, a comprehensive toolkit on how to use policy to support bicycle friendly communities, and other resources. She also worked with hundreds of policymakers and advocates around the country to advise on active transportation policy and overcoming obstacles. 
Prior to working at ChangeLab Solutions, Sara worked at several nonprofit organizations, including Disability Rights Advocates and the Community Benefits Law Center at Partnership for Working Families. She also clerked for Judge Richard Paez of the Ninth Circuit Court of Appeals. Sara graduated from Swarthmore College (Phi Beta Kappa) and UC Berkeley School of Law (Order of the Coif).  Sara lives in Berkeley, California, with her spouse, three children, three cats, and a dog.